Golf Children's Book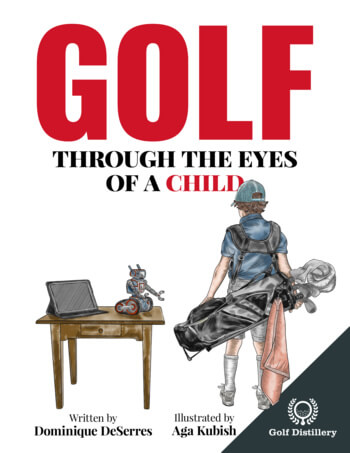 "Hi, my name is Henry! Join me as I walk you through the great game of golf and explain what it means to me."
Golf Through the Eyes of a Child is a golf children's book that seeks to explore the essence of golf.

Fundamental golf themes such as family, honesty, perseverance, and of course enjoyment are visited and supported by colourful illustrations in a timeless art style.
Golf Through the Eyes of a Child is more than just a factual exploration of the game of golf — it's an ode to everything the sport can offer to child players.
…
The book does an excellent job of capturing the essence of the sport—not just the equipment, rules, and techniques, but also the whole sensory experience that makes the game so addictive.
…
Whether you want a treat for a golf enthusiast or to introduce the sport to new players, this book is a fantastic choice.

The Children's Book Review
---
Give the Gift of Golf!
---
Get the ebook:
(or download a sample)
---
A skillful explanation of the game of golf from a player who is clearly passionate about it.
…
DeSerres is clearly a knowledgeable fan and player of the sport, and that passion and know-how are convincingly shared through young Henry, while skillfully simplified to help young readers (and those reading to them) appreciate nuanced aspects of the game.
…
After reading this book, those who have never played golf might be intrigued to try, while those who already love the game will enjoy this youthful celebration of it.

Bookroo Review
---
From the Author
People play golf for many different reasons, but what is golf really about?
Yes, golf provides a reliable way to spend several hours outdoors in good company. And yes, you can start to play at a young age and keep on playing well into your golden years. But golf is also notoriously difficult and hitting bad shots can lead to rather frustrating experiences. Yet that doesn't stop legions of golfers worldwide from gripping their clubs every chance they get in order to have a go at it.
Being a golfer myself I've often wondered what makes the sport feel so addictive. Sure that rush you get when you hit a particularly good shot takes you to a blissful place but clearly there is more to it than simply chasing that fleeting 'high'.
I decided to proceed more purposefully and imagined the concept for this book after introducing golf to my own 6-year old son. Interestingly, despite initially struggling to even strike the ball – never mind hitting it straight – my son always jumped at the opportunity to join his father for a practice session or for a round. What does this new little golfer, with fresh eyes, see in the sport that draws him to it? And what if what he sees is the same as what we all see? Maybe it's just that we've stopped paying attention…
Through this picture book I aimed to touch on most major themes that are associated with golf, to get to the very essence of the sport, to distill it if you will.
For example, being outdoors in the company of friends and family is covered prominently. But so is the refuge from 'screens' that golf provides. Here is a sport where you can actually stop and smell the roses. Where you can leave footprints in the dew on a peaceful morning and where you can listen to the birds chirping against the backdrop of a sunset. Golf teaches you to behave honourably towards the game and towards others, not because a referee might give you a penalty if you don't, but simply because that's how it should naturally be.
I hope the golfing community of every age group will recognize the fundamental themes featured in this book and will enjoy seeing and helping new generations of golfers pick up the game we so love.
Dominique DeSerres | Saint-Bruno-de-Montarville, Quebec, Canada
On the Illustrations
"Old engraving style with black ink. Coloring with digital watercolours."
The process that led to the final illustrations was rather deliberate. The artist worked from carefully produced photographs to draw the initial outlines of the artwork. Black ink strokes were then added to the contours and within in order to provide texture. (A secondary goal was for the ink illustrations to be able to stand on their own, if they needed to.) The final step involved carefully filling the drawings with rich colours, ensuring for example that each shade of green is associated with its correct grass length.
On the Book Format
32 pages | 8.5" x 11" | Paperback | Nov. 1st, 2020
This book is available in the 8.5 x 11 inches format. This larger book size allows for the details in the illustrations to shine through. It also allows for the text to be displayed in a larger font. Indeed, it is hoped that golfers will read this book to their children or grandchildren and if they can do so without needing to put on their reading glasses, all the better!
---
---