Golf Format Explained
The better ball playing format is a type of best ball in which teams are comprised of 2 golfers.
Similarly to best ball formats, only one ball – and thus one score – counts per hole for each team and the team with the lowest total score for the round wins.
---
How to Play Better Ball
Each golfer hits his own ball throughout the round but after each hole, only the best score amongst the team members is recorded and counts as the score for the team for that hole.
---
How to Win
The best scores for each hole are added and the team with the lowest total score will win the tournament.
---
Appeal
Better ball rounds are often organized for the qualification round of season-long four ball tournaments. Indeed, in order to organize the field of teams into brackets a qualifying round of better ball is often used, where the team posting the best result will be seeded at #1 and so forth.
This type of game play also works really well in developing a strong collaborative bond between the two players. Indeed, a team that works well together is one that will be able to successfully navigate trough difficult sequences. In a good 'ham and egg' team, whenever one golfer struggles during the course of a hole, his partner will step up to the challenge and manage to post a good score for the team for that hole.
---
Alternative Names
2 ball best ball
2 man best ball
---
Alternative Meaning: Better Ball Match Play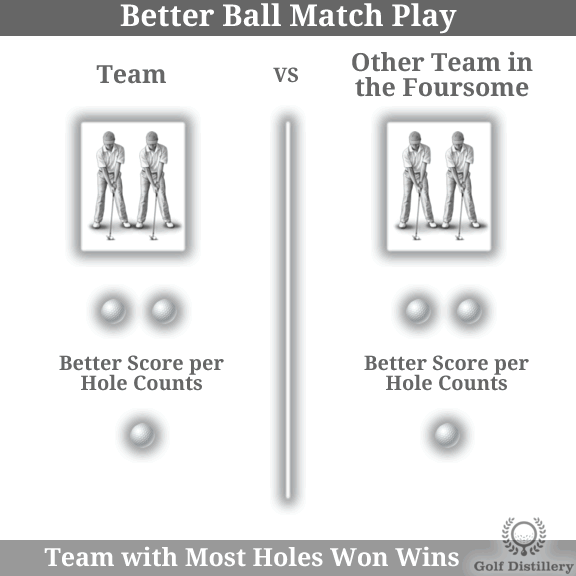 It should be noted that the better ball appellation is also often used to describe a similar setup but in a match play environment. Indeed, some refer to the better ball format when describing a match that pits two 2-golfer teams going head to head against each other instead of each playing against the entire field. In this case and as is the case for the match play setup, the objective is to win more holes than the opposing team before the match ends.
Variations: